About us
TATSUNO EUROPE a.s. is a Czech-Japanese company headquartered in the town of Blansko, which is located about 30 km north of the country's 2nd largest city, Brno.
As a specialized maker of fuel dispensers and accessories, TATSUNO EUROPE a.s. has achieved international success throughout its more than twenty year long history.
Fusing the innate industriousness of Czech workers with the renowned precision of Japanese experts and the extensive experience of both sides not only vouch for the quality of products today, but also provides a promise of innovative and competitive solutions tomorrow.
History
The history of TATSUNO EUROPE a.s. started in the autumn of 1993, when two experts in the field of fuel dispenser technologies, Jaroslav Sehnal and Zdeněk Černošek, decided to found a new company producing fuel dispensing solutions. They put together a team of about a dozen workers, rented offices and assembly spaces, and started the company Benč s.r.o. The name is a contraction of the Czech phrase "
ben
zinová
č
erpadla", which translates simply to "fuel dispensers".
In the very next year, in 1994, Benč started producing dispensers for foreign markets, starting with the Czech Republic's former federal partner Slovakia, and also Russia. This eastbound endeavor became very successful, and in 1997 the success was transformed into the founding of a subsidiary company based in the Russian town of Ryazan', named S-Benč. Over the following years, Benč entered many other European (and even some Asian) markets, and today our dispensers can be found in nearly all countries on the Old Continent.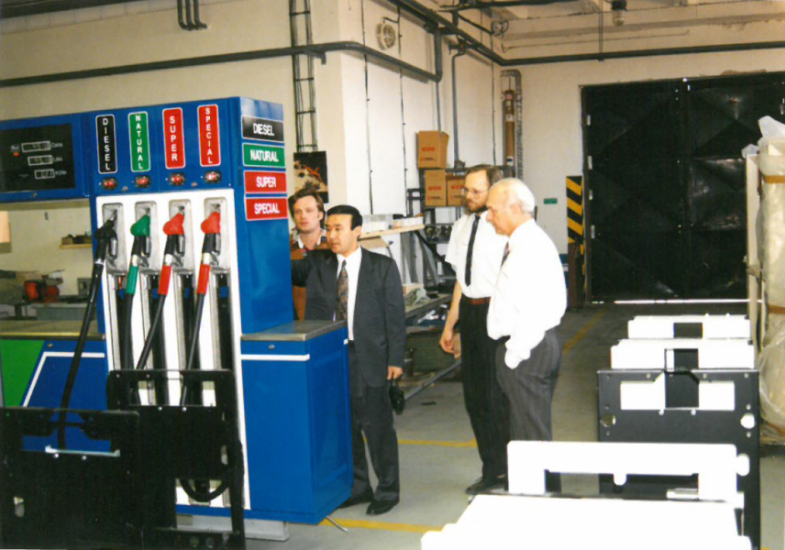 In what has been called the most fortunate move in the company history, Benč started cooperating with the Japanese manufacturer TATSUNO in 1995. The desire to build top quality products struck both companies as a common priority. The cooperation went so well that by 2000, the Japanese side decided enter Europe, and so Benč was renamed to TATSUNO-BENČ EUROPE a.s., a joint venture with a 20% share owned by the Japanese company TATSUNO. Simlutaneously, S-Benč became
TATSUNO RUS
.
The
TATSUNO Corporation
was founded in 1911, and developed the first ever measuring fuel dispenser in Japan. Many other firsts also come from this maker - including the development of the suspended fuel station, where all dispensers are situated above the vehicles providing a neat space-saving option, or the number one market share in Asia, the largest continent. TATSUNO products are also known to be highly secure, which has been demonstrated continually ever since the Great Kantō Earthquake in 1923, when none of the TATSUNO-made fuel tanks reported any leaks.
In the Czech Republic, TATSUNO-BENČ EUROPE remained as active as ever and kept benefitting from the Japanese experience, which proved so favorable that at the end of 2010, the Japanese side assumed 70% of the company share and it was renamed to TATSUNO EUROPE a.s., as it is known today.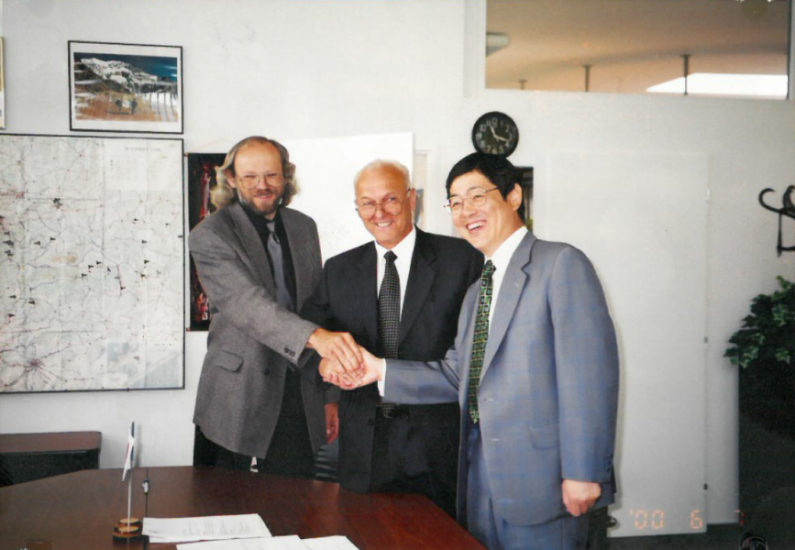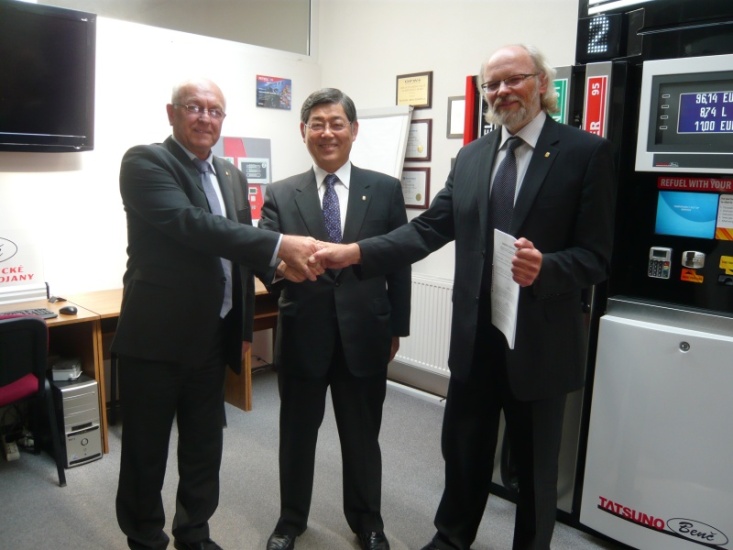 Present
Production
All dispensers made at TATSUNO EUROPE are developed and produced at the factory in Blansko. We cooperate mostly with regional suppliers for our materials, and manufacture all parts ourselves. Hydraulic components - the pumps and meters, which constitute the beating heart of all dispensers - are manufactured in Japan, and provide a guarantee of our top quality. We are also especially proud of our electronic calculators, which have been very well received by customers all throughout the company history.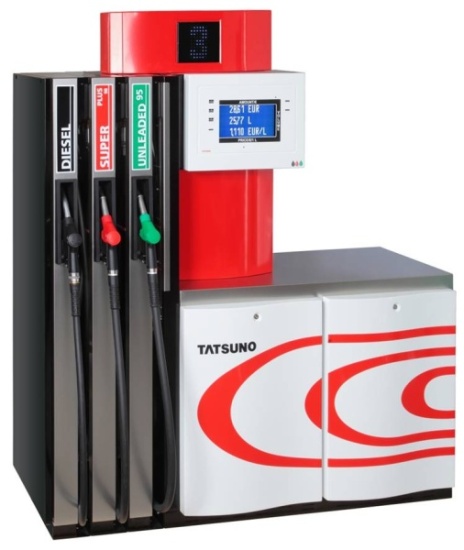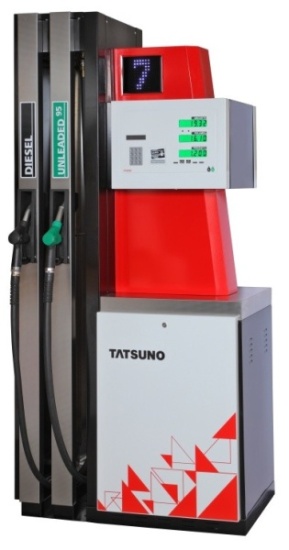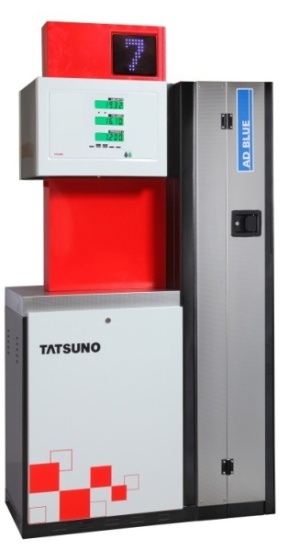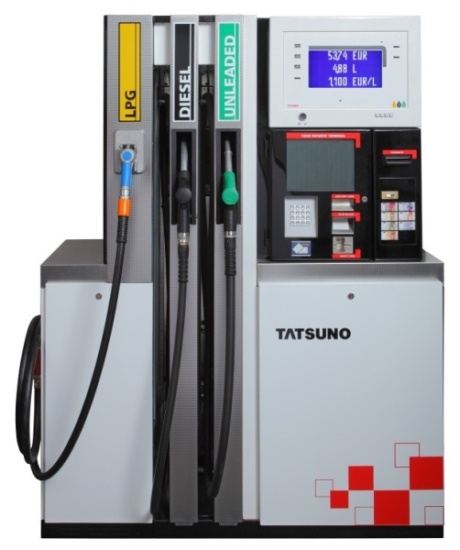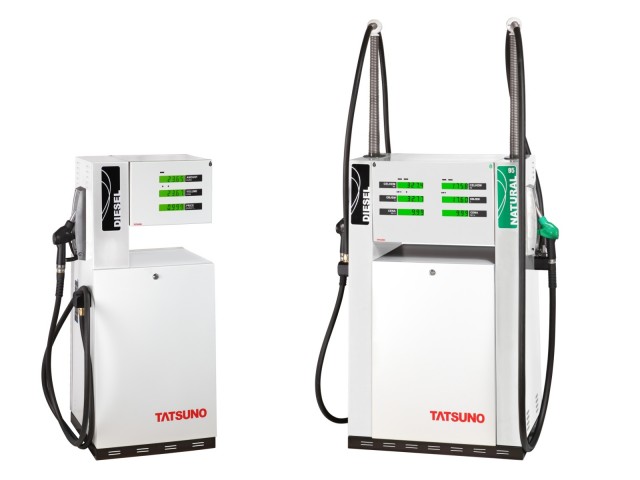 People
Here at TATSUNO EUROPE, we believe that the most important asset of any company are the people. Be it software developers, accountants, assembly workers, sales managers, painters, or many others, all are vital links in the process that ensures our customers are satisfied with the final result. We also highly cherish all of our business partners - the companies that cooperate with us to create a functioning network, enabling that TATSUNO products reach customers all over Europe.
Work
TATSUNO EUROPE has different departments where various kinds of work take place. From meticulously cleaning the parts we receive from our suppliers or our own manufacture from scratch, through machining and painting to get precisely what we need, all the way to the final assembly and packing, there is a lot more work included than meets the eye when you see the finished product! We are proud of the quality of everything that we do, so if you are interested, feel free to
contact us
and we can set up a meeting and presentation of our facility.
Future
In addition to maintaining top quality production, we are always looking towards the future and opportunities in new markets as well as old. TATSUNO EUROPE has been active in nearly all European countries. We are also continuously progressing our designs and technologies.