About us
We are a Japanese - Czech, dynamically developing production and trading company with a range of dispensing equipment for petrol stations.

Since its establishment in 1993, we have become a stable, trustworthy and reliable partner for our customers

Our activities are focused on activities in the field of fuel dispensing equipment. We offer our partners professional negotiations, exceptional services, proven quality products and fair prices.

History
The company was established in 1993 under the name Benč s.r.o., as an organization engaged in the production and sale of fuel dispensers.

From the following year, the company expands abroad.

In 1995, cooperation with the Japanese company TATSUNO Corporation began. The desire to produce the highest quality products has united the two companies as a shared priority.

A new impulse was given to the company in 2000, when the Japanese partner became a minority owner and Benč s.r.o. was renamed TATSUNO - BENČ EUROPE a.s.

At the end of 2010, the Japanese co-owner took over the majority share of the joint-stock company, which was also renamed TATSUNO EUROPE a.s. That's how we know her to this day.


Production
All products offered by our company are developed and manufactured in Blansko. We cooperate mainly with local suppliers of materials and perform the final assembly ourselves.

Hydraulic components, which are pumps and meters providing a guarantee of the highest quality, are manufactured exclusively in Japan.
People
We believe that the most important capital of any company is people who are indispensable parts of the process of guaranteeing our customers' satisfaction with the final product.

Likewise deeply we appreciate our business partners - who are working with us and helping us to create a functional network, allowing the operation of our products not only throughout Europe.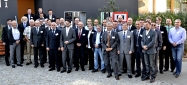 Basic information about the joint stock company
TATSUNO EUROPE a.s. is a subsidiary of TATSUNO Corporation, registered and existing under the laws of Japan, with its registered office at 12-13, Shibaura 2-chome, Minato-ku, Tokyo, Japan, and together with other subsidiaries forms a group with this managing entity pursuant to Section 79 of Act No. 90/2012 Sb. on business corporations.